An Unofficial and Incomplete History of Pontiac Environmental Protection
WE ARE IN FAVOUR OF conservation of energy and natural resources, use of renewable sources of energy, reduction shopping and active recycling, municipal composting of organic wastes, and sustainable development.
WE ARE OPPOSED TO the manufacture and use of chemicals which destroy the earth's protective ozone layer, the use of nuclear fission as a power source, and the irresponsible dumping of the toxic by-products of such industries. The promotion of an unnatural greed for non- essential gadgets imposes hardships on the world's people and resources forever.
WE BELIEVE THAT through grassroots movements such as ours, and with the help of responsible governments, lifestyles can achieve harmony with the natural forces of the planet.
PEP began its life as Pontiac Anti-Nuclear Action Committee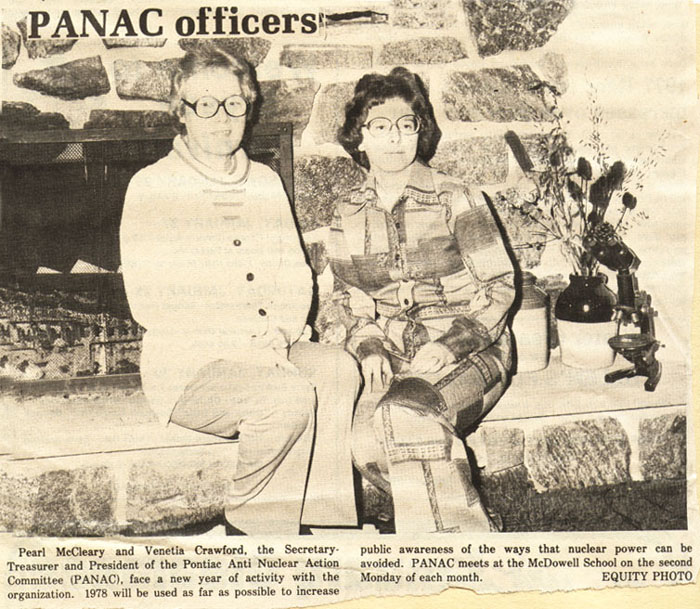 PEP began in the early 1970s as PANAC.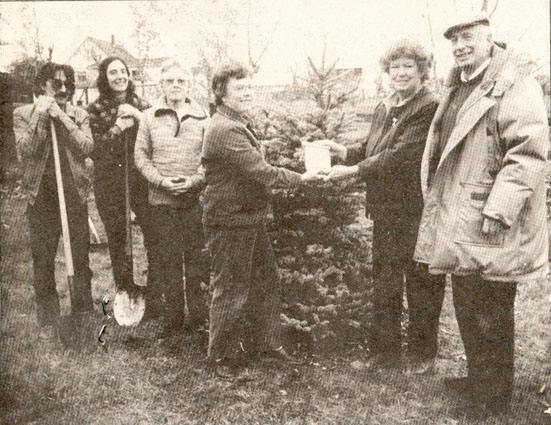 Some of the founding PANAC members planted a tree in Mill Dam Park, dedicated to Rosaleen and David Dickson's great influence in publicizing environmental concerns.
Left~right, Richard Vezeau, Jo White, Pearl McCleary, Venetia Crawford, Rosaleen Dickson, David Dickson.
---
Early fund- and awareness-raising events were the NoNuke Boogie and the Pontiac Sunshine Festival. Held at the Auberge Bouleau Blanc on Calumet Island, this three-day festival included camping, alternative energy displays, while band after band popped up out of the woodwork, some having heard and responded from as far away as Toronto and Montreal.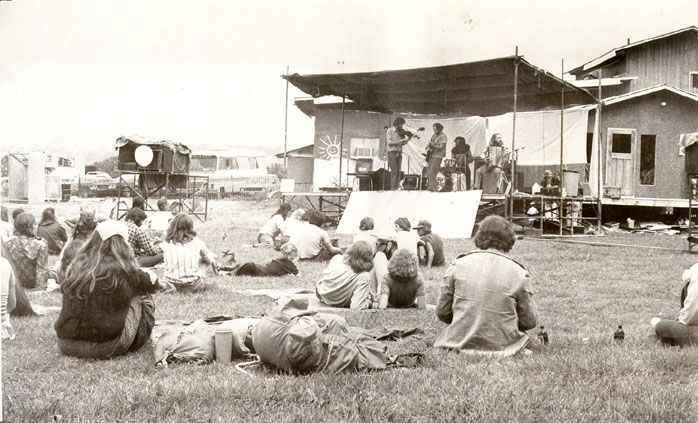 Wilno Express takes the stage at the Sunshine Festival. Rain sent the crowd off to the Parish Hall in downtown Calumet Island, then some reprised in the downstairs room of the Bouleau Blanc, before the weather cleared and the music returned outside. There's a risk in calling a festival "Sunshine..." It implies a preference of weather.
This song was composed by Robert Wills as an expression of the concern over the prospect of uranium mining in Pontiac County. Its public debut was at the Sunshine Festival - click to hear the recording
Unclear Nuclear Prerogatives
(Chorus)
It's such an unclear nuclear prerogative
That takes the people from their natural home
It's an unconscious governmental policy
That lets the people bear it all alone
The businessman, he wants money
The politician wants to make more jobs
The little man on the land needs a paycheck, so he can feed his family
But in a hundred thousand years to come
When the mining jobs will all be gone
Then we're left with a mess that no one wants, and no way to dispose of it
(Chorus)
Oh, the man on the street sees tomorrow
And that new car that he's just gotta drive
But his children's children will get out of here; that's if they survive
And when the money's all gone back to the government
And your UIC runs out
And the rivers are polluted, and the fish swim upside down...(whatcha gonna do?)
Because of unclear nuclear prerogatives
That takes the people from their natural home
Such an uncertain future for Canadians,
Because the people bear it all alone
Take it out of my yard and my garden
Keep it out of my lungs and my hair
If you think it's good for you,
Then stuff it in your own shoes and walk right out of here
(chorus)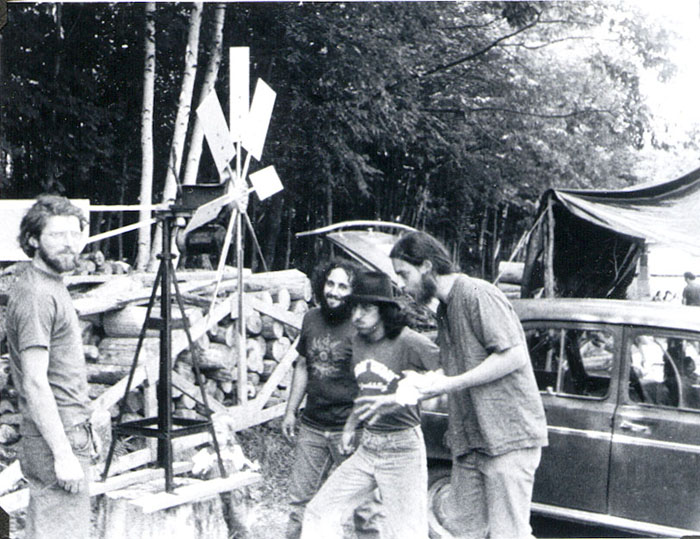 Peter Ruppel, Lenny Prost, Richard Vezeau and Charlie Sohmer test the windmill generator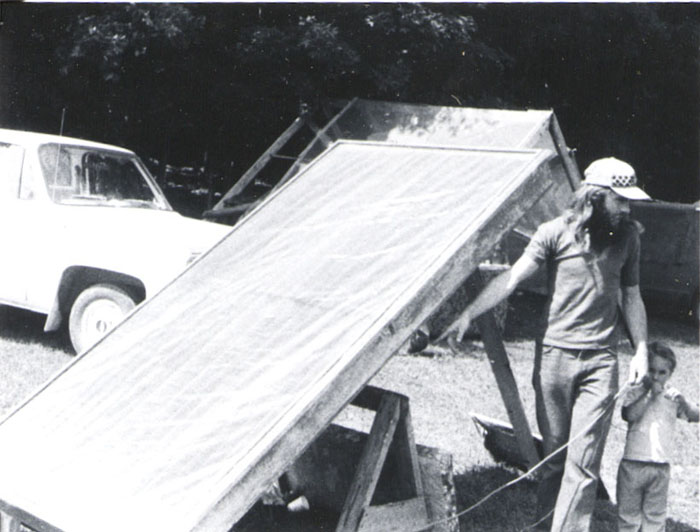 A solar water heater, one of the alternative energy displays at the Sunshine Festival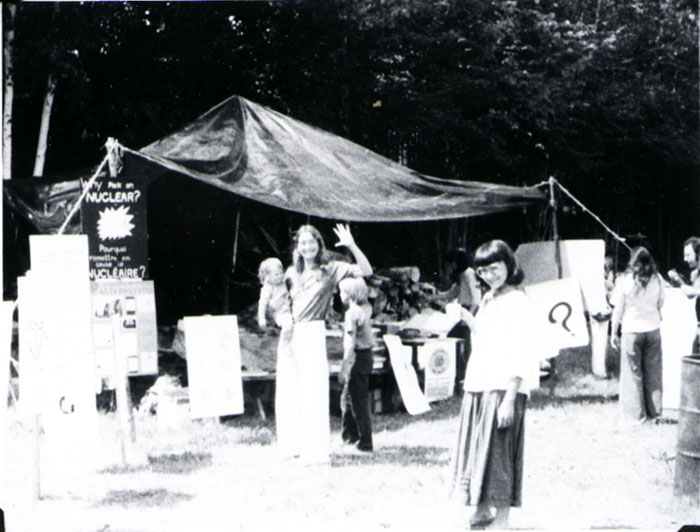 Fun and information mingled freely at the festival
---
PANAC was renamed Pontiac Environment Protection
(PEP) in order to address environmental concerns in addition to nuclear.
PEP logo, designed by Nancy Gougeon
---
Flushed with the relative success of the Sunshine Festival, a larger more extensive gathering was undertaken. Held at the Pontefract Golf Course, near the Chutes du Coulonge, the Festival Galarneau gathered musical and theatrical groups from near and far for two days and evenings of informative entertainment.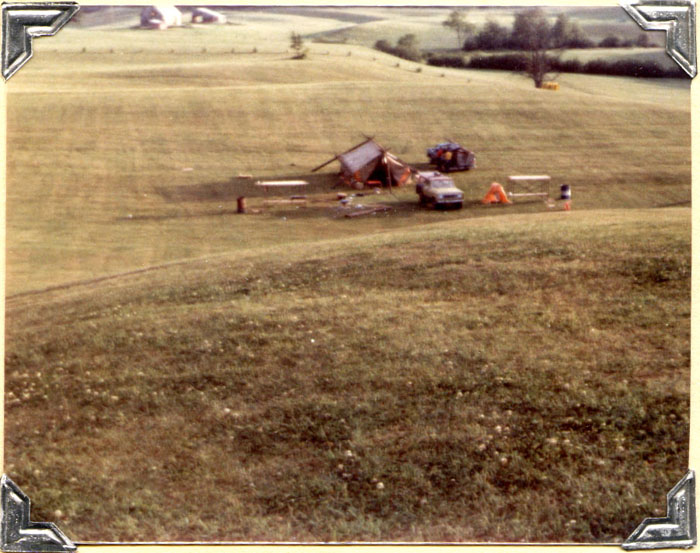 John, the soundman, set up camp ahead of the stage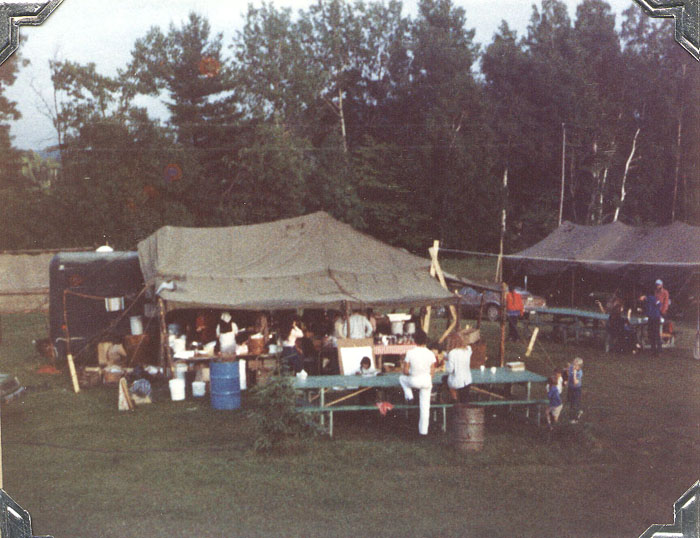 The food booth was a popular gathering place - by this time, we really knew how to eat!
Babies were gestating - that may have influenced the development of culinary skills.
Valerie Bridgeman and Arleen Prost display their hatchling shapes.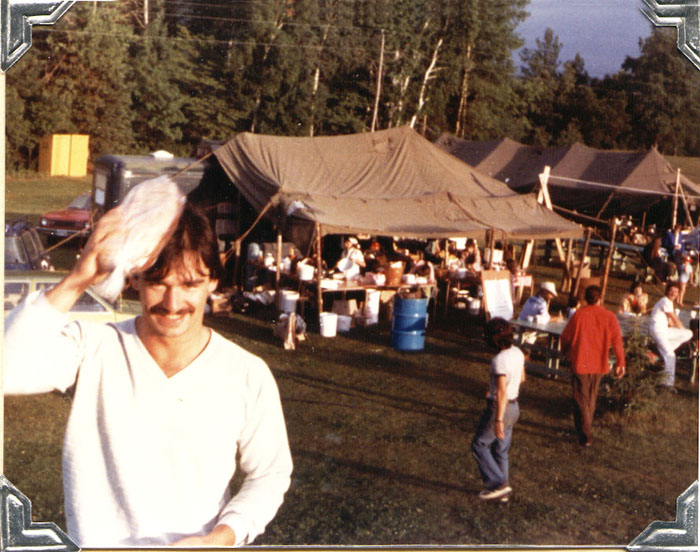 Marcel Belec, among many revelers at the festival.
---
PEP co-sponsored development studies for the project to revitalize the local wool industry.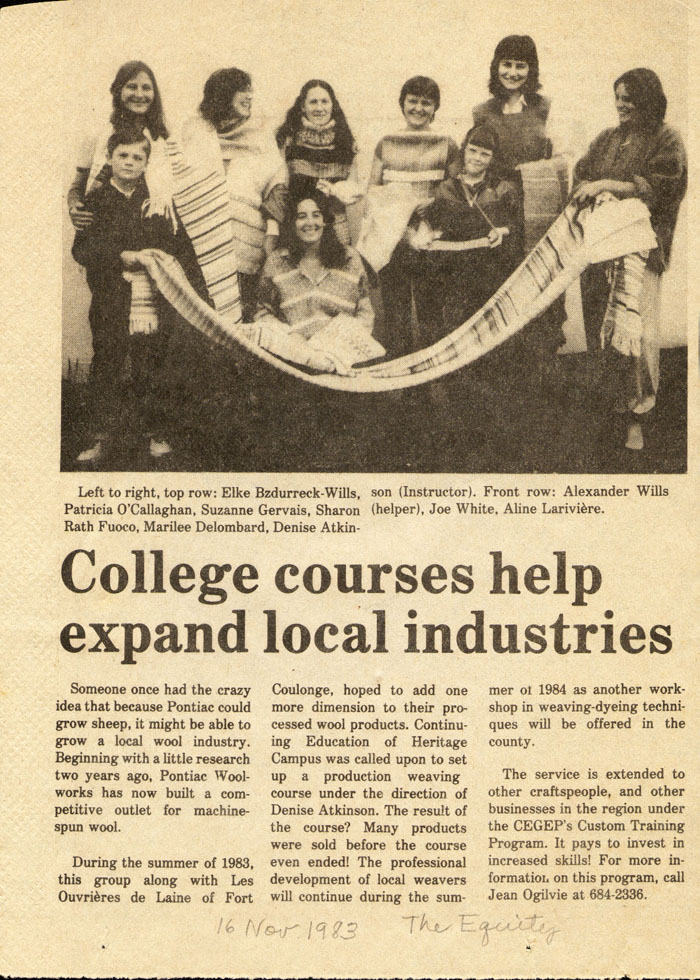 ---
PEP sponsored a student poster contest at the S.E. McDowell School. Here are a few of the entries.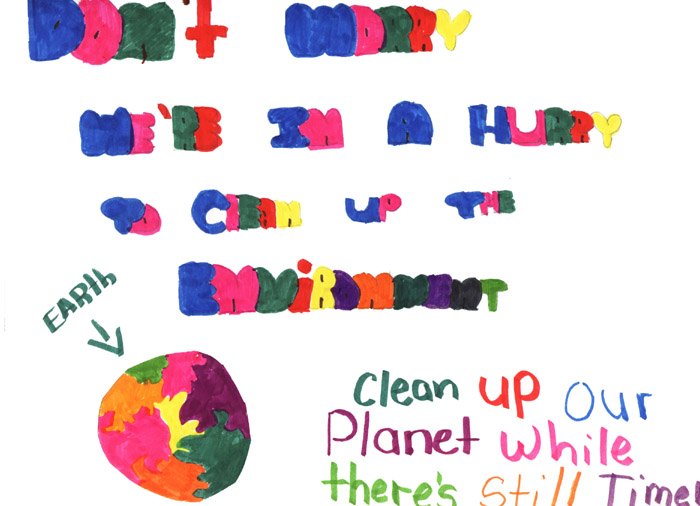 Unfortunately, there's no clear indication as to who created this piece. If you know, please let me know.
Another student poster submission, undocumented as to authorship
This poster was created by 'Edward'.
---
Home Composting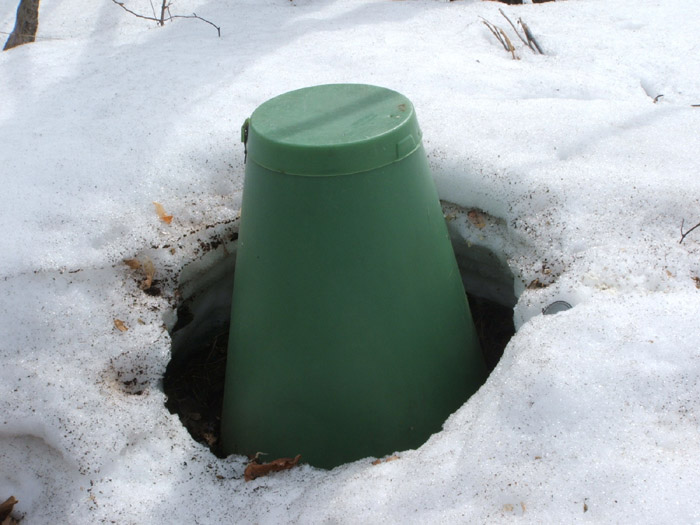 PEP co-ordinated with Shawville council and Shell Canada, to promote home composting of kitchen wastes. To this end, Green Cone composters were made available at reduced rates. Here is one of the original cones, still composting and generating heat to melt the surrounding snow, some 16 years later.
For more nature/scenery photos, click here
For more Pontiac County music, click here
Past, Present & Future Involvements
Education program to create an awareness of hazards related to nuclear power; mining, processing of uranium, and proliferation of nuclear power industry.

a. Opposed the development of a nuclear power plant at Fitzroy Harbour, Ontario.

b. Opposed exploration and mining of uranium in Pontiac County.

c. Instigated a study of radioactivity in water supplies.

d. Instigated a study for radon gas in homes

e. Opposed radioactive waste shipments travelling from Chalk River to the U.S.A.

f. Opposed the Rolphton Nuclear Power Demonstration Plant operation.

g. Supported the effort of the Alliance pour la Paix du Quebec in their attempt to make the province of Quebec a nuclear weapons-free zone.

Environmentally-favourable job creation project to employ Pontiac people in woolen textiles.

Program to educate farmers about the hazards of aerial spraying of herbicides and pesticides.

Summer festivals that promoted projects harmonious with our environment.

Opposed proposal to use the Hilton mine as a landfill site.

Recycing projects for Environment Week, 1987-88.

Environment Fair projects for Environment Week, 1990-91.

Opposed the manner in which les Chutes du Coulonge were sold to non-Pontiac business interests, for too little local gain.

Community Yard Sale project to reduce waste for Environment Week, 1992.

Support Friends of Pontiac's Rivers organization to promote sustainable usage of the relatively un-exploited rivers in this area.

Support development of local industrial hemp farming

Lobbied for Refuge Biologique status for a section of the Marle region near Danford Lake.

Opposed installation of a MegaDump near Danford Lake.

(this portion is obviously long out of date...)
Web design, text, and recent pictures by Robert Wills. Most older pictures courtesy of Pontiac Archives.
If you have stories or pictures to add, email me.
Updated Apr.3, 2007